Spring 2016 Foresthill Friends of the Library Newsletter
530-367-2785
To see the Agenda or the Minutes for our meetings, go to the FFOL tab above.  Our meeting dates: The second Thursdays of every other third month – at the Library.
21 September, 9 November 2017
For our monthly Silent Auction listings:  See Foresthill Library Home Tab above  -> Silent Auction

Computer/Technology Learning at the Library
Please feel free to come in to the library on Thursdays, between 12 and 2 PM for help with your questions on computers, tablets, iPhones, Android phones and questions about borrowing digital library books. Cathy Gerber is there to help you in any way she can with technology issues.
Do you want to learn how to categorize your Kindle books: Mystery, Historical, Non-Fiction etc? This helps you find the book you want to read next, especially if you have a lot of books in your library.
If you are also interested in understanding the Windows 10 File Explorer (Manager) and why there seems to be multiple "Document" folders, she can explain it and offer you a handout, explaining where all your files are actually located on your computer.
Foresthill Rebounders


A Road to Recovery

We have an ongoing support group for people who are surviving various physical challenges such as strokes, cancer, Parkinsons and other life challenges, and their caregivers (advocates). Please meet with us at the Foresthill Library Community room on the fourth Wednesday of the month at 1:00 PM. We look forward to seeing you then.
Class at the library in the community room on

THURSDAY OCTOBER 5TH   –  11AM- 1PM

Instructor Sandy Simester
Sandy will supply fabric, stuffing, leaves, stems, raffia, glue gun, and thread. Students bring scissors and a needle & a glue gun if you have one.
Cost $7 paid to Sandy for materials plus a $3 donation to the Friends of the Library would be appreciated. 
If you are planning to attend – sign up at the Library on the clipboard in the Book Sale Room; OR contact Sharon – call or text 530-368-9472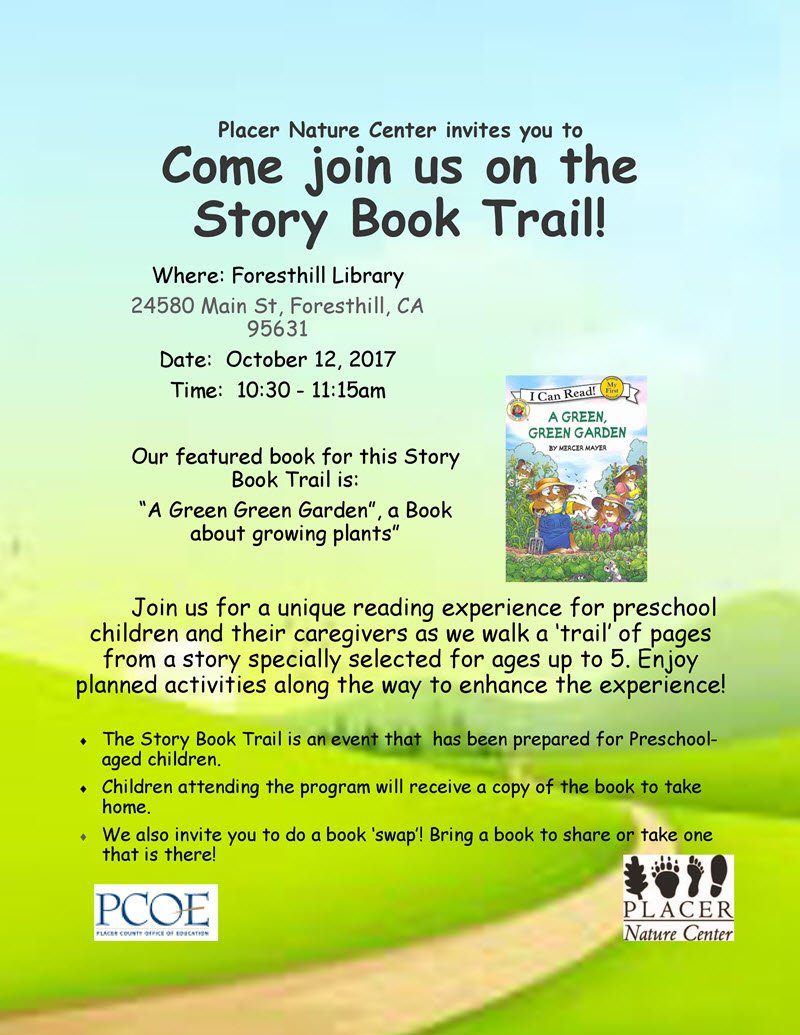 CHRISTMAS TREE NAPKIN SEWING CLASS ON MONDAY, OCTOBER 30, 2017,  NOON TO 4 PM.
Fabric Friends  sewing class for Christmas Tree Napkins class on Monday, October 30, 2017.  Noon to 4 pm.  Community Sewing Room, 24750 Main Street, Foresthill.
Napkins are a fun project and easy to sew.  What can be better than  Christmas Tree Napkins for the holidays to make as gifts or your holiday dinner table.  Class will be Monday October 30, 2017, noon to 4pm.  You can use fabric with a Fall or Thanksgiving theme, a winter theme (think snowmen ); a forest theme .  Possibilities are endless.  Cost for class is $20.  Please let Margaret Venturini (367-4080 fmventurini@ftcnet.net)  know that you are coming to the class so a   pattern and instructions  can be made up for each student.
Supplies:
1/2 yard of two coordinating fabrics (this is enough for 4 – 16"napkins)
Thread to match
pins
fabric scissors
rotary cutter
sewing machine
pencil
scotch tape
normal sewing supplies that you use
This is Sharon showing off our design board!  Come join the group to see all the wonderful projects they are producing and to take classes for yourself!